Here's a table comparing the two attractive toxic sugar baits (ATSBs) sold by Spartan Mosquito. Please feel free to share on Facebook, Nextdoor, and Pinterest.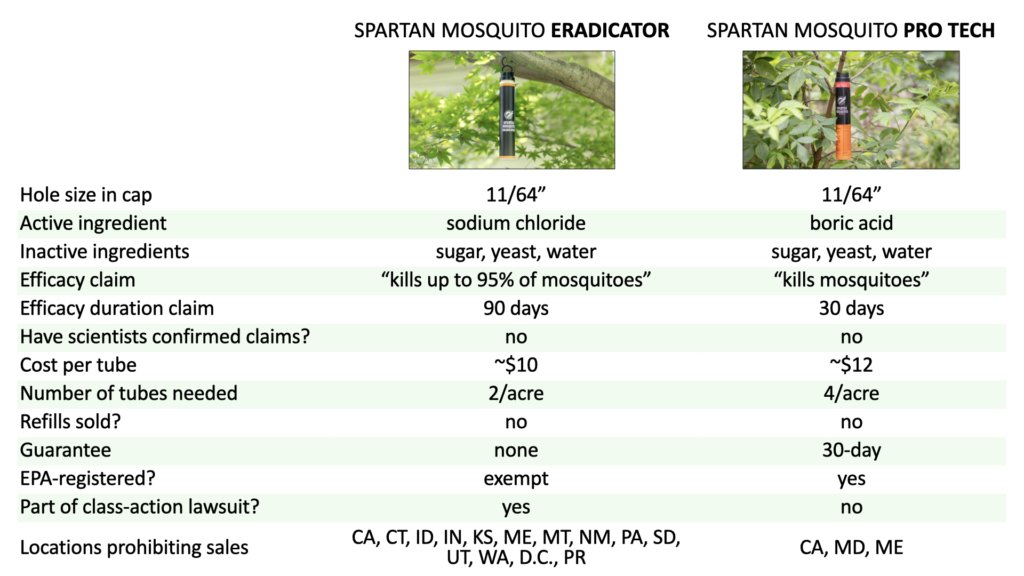 If you see anything that needs updating, please let me know.
Notes
Spartan Mosquito no longer makes the Eradicator but it is still available at some retailers.
The company has said for years that it is working on selling refills but I don't think it will ever happen.
Per the fine print, the 30-day guarantee clock for the Pro Tech starts the day you purchased the device (or the day it was delivered). So if you buy in bulk for future use, that's something to keep in mind.
Scientists have evaluated the Spartan Mosquito Eradicator and found no evidence it controls mosquitoes. Another team of scientists have determined that salt (the active ingredient in Eradicators) doesn't kill adult mosquitoes.
The American Mosquito Control Association does not endorse the Spartan Mosquito Eradicator.
The Spartan Mosquito Eradicator is the focus of a $5 million class-action lawsuit.
Here are the approximate ingredient amounts for the Eradicator in case you'd like to make your own refills:  2 1/2 tbsp sucrose, 1 tsp salt, 1/16 tsp yeast. Then add warm water to fill line. Here's the recipe for 40 refills (feel free to share on Facebook). Refill ingredients cost less than a nickel per tube. To refill a Pro Tech: 0.48 tbsp boric acid, 0.48 cups sucrose, 1/16 tsp brewer's yeast.
The Environmental Protection Agency is now requiring company to state that the Pro Tech does not eliminate mosquitoes. Company has not yet complied.
Here is my review of the Spartan Mosquito Eradicator.
Here is my review of the Spartan Mosquito Pro Tech.