Here's a summary of the Spartan Mosquito Pro Tech, the newest device made by the makers of the Spartan Mosquito Eradicator, which I reviewed in 2019. Aside from differences in label design, the Pro Tech looks just like the Spartan Mosquito Eradicator and is filled with essentially the same ingredients (water, sugar, and yeast). The major difference is that the active ingredient is boric acid instead of table salt. They come in a box and you just add warm water, shake, and then hang in a tree.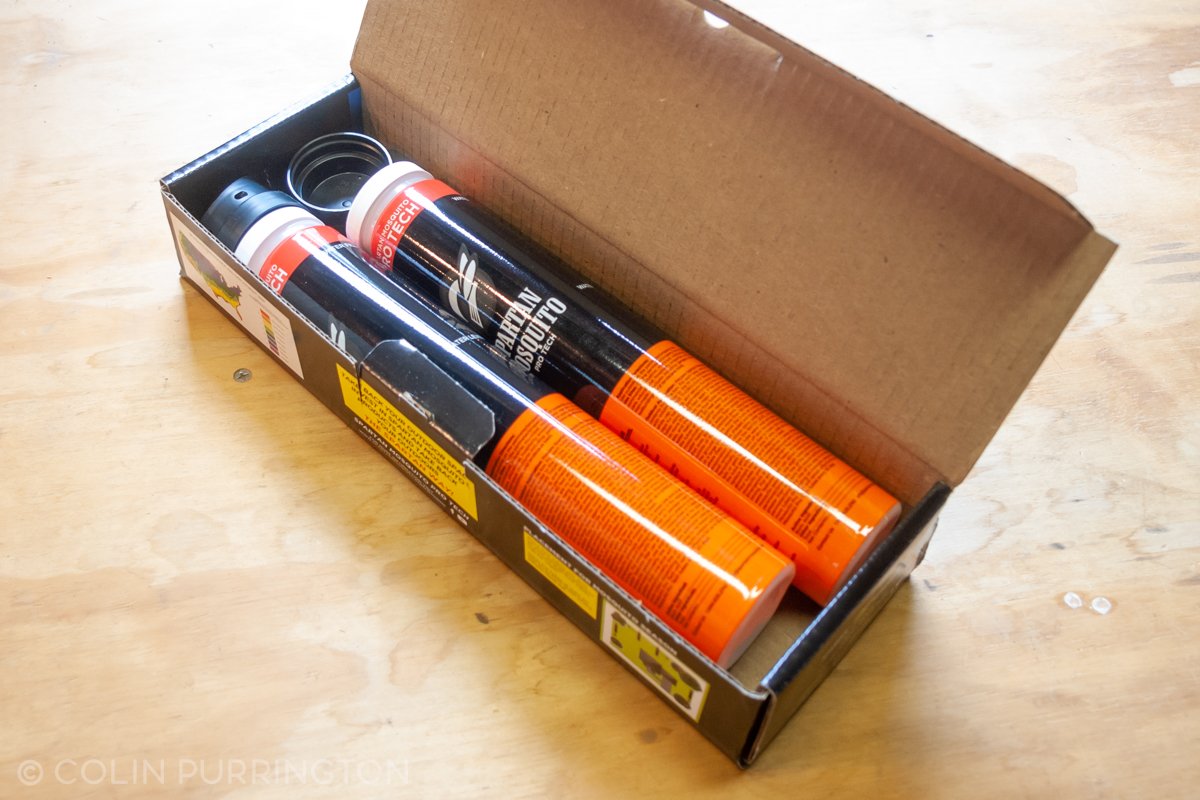 How it is supposed to work
The company says the Pro Tech is an attractive toxic sugar bait (ATSB) device, with the lure presumably being the sugar. I write "presumably" because the inventors have said that it is the carbon dioxide (produced by the yeast) that lures mosquitoes to the Eradicator, and the companied hasn't voiced any change in view for the Pro Tech. Regardless, it is the boric acid that is supposed to kill the mosquitoes, and it certainly would do that if any mosquitoes ingest the solution inside the tube. Here's the full sequence of events that are said to occur (important steps are bolded):
mosquitoes are attracted to the tubes
mosquitoes land on the tubes
mosquitoes crawl around until they find the 5/32″ holes in the cap
mosquitoes squeeze though the holes
mosquitoes walk down sides of tube toward liquid
mosquitoes ingest some of the liquid
mosquitoes walk back up sides of tube
mosquitoes find holes
mosquitoes squeeze through holes
mosquitoes fly away
mosquitoes die
Steps 7-10 would not be required, of course, but Spartan Mosquito says that mosquitoes do, in fact, exit the tubes, leaving no trace.
So does any of the above actually happen? As of February, 2021, the company's website has no photographs showing mosquitoes at any of the above 11 steps on Pro Techs deployed outside. I don't know whether they've tried to get such photographs but my guess is that they haven't. I suspect the company realized that people bought millions of Spartan Mosquito Eradicators without any supporting data or photographic proof that the devices work. There really is no reason why they'd change up that successful strategy.
Efficacy
Per the labelling, the Pro Tech "kills mosquitoes". It's unclear whether the number actually killed would make a dent in thousands of mosquitoes that inhabit a typical yard, though. All we know for sure is that more than one mosquito is killed.
Hopefully, scientists will eventually perform experiments on the Pro Tech like they did on the Eradicator (they found that devices don't work). Until those trials are complete, the only third-party test of whether the Spartan Mosquito Pro Tech works is one I did in my yard. In that test (NB: on a single Pro Tech), I found that the device attracted and killed ants and fruit flies but not mosquitoes. It failed at step 1.
If my results are generalizable to other yards (and to different species of mosquitoes), the question becomes, how was the device was able to secure an EPA registration? I'm wondering whether the data the company submitted to the EPA were from experiments using caged mosquitoes in a laboratory. With cage experiments, mosquitoes would be trapped inside with only a Pro Tech, so one might (possibly) find mosquitoes dead in the cage just because of boric acid fumes. Also, if mosquitoes are trapped inside a cage with the only water source being a tube of boric acid solution, several mosquitoes might eventually go inside the tubes and die there. Both those mechanisms would be major flaws of cage experiments. When I asked the EPA staff whether Spartan Mosquito's data were actually from outside experiments (the box asserts they kill mosquitoes outside), they held a meeting on the topic and then declined to answer. Here's a line from the URL they sent me: "When appropriate, laboratory colony or caged wild mosquitoes can be used."
Indeed, the company admits that field trial data were not even needed to secure the EPA registration:
The major issue with cage experiments of attractive toxic sugar baits (ATSBs) is that they do not test whether the device can compete with all the attractive nectar and fruit in the real world. I.e., mosquitoes will likely have numerous sources of sugar in a yard and may not seek out the ATSB (why would they?). This flaw is not my insight, by the way — most journal articles on ATSB devices mention this issue. I'm not sure whether the EPA even considered this problem during the evaluation of the Pro Tech's experimental data. They should have, of course.
By the way, the name, "Pro Tech", is presumably to signify to consumers that the device is "professional technology". The name choice is interesting because the EPA has specifically prohibited the phrase "Pro Tech" in pesticide names because it implies to consumers the product has extreme efficacy. I'm not sure how the company convinced the EPA to allow its use, especially given the lack of extreme efficacy (device merely "kills mosquitoes").
If it turns out that the Spartan Mosquito Pro Tech doesn't kill mosquitoes outside (the claim on the label), the company might be at risk for getting sued, again, for false advertising.
Where it can be sold
Interestingly, California and Maryland don't seem to allow sales of the Pro Tech. The device has a "conditional" registration in Maine, though I'm not sure what that means.
How it passed regulatory hurdle
Given all of the above, I was not surprised to learn that the EPA registration decision was not just based on experimental data. Spartan Mosquito apparently pitched to the EPA that the device should be fast-tracked given how dangerous mosquitoes are. Evidence for that is from a radio segment featuring Jeremy Hirsch, the inventor and founder. During the interview the host said, "Hirsch is attempting to get an early green-light because mosquitoes are so dangerous".
How, exactly, does one convince the EPA that a pesticide be rushed through? It turns out that Spartan Mosquito hired a major lobbying firm (Gunster Strategies Worldwide) to get this done. Below is a document from Gunster Strategies that spells it all out: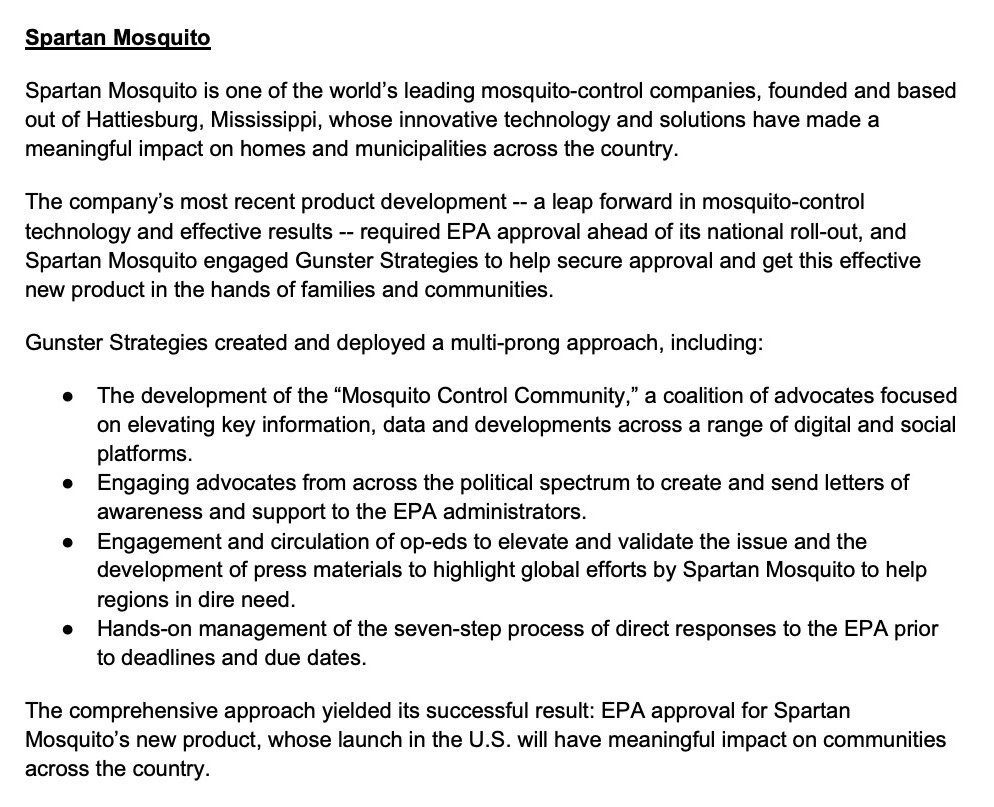 I haven't been able to find any documentation on whether Gunster Strategies Worldwide had registered as a lobbyist of the EPA. Spartan Mosquito is not listed among companies lobbying the EPA in either 2019 or 2020.
In regards to the op-eds mentioned in scheme, it appears that a health official in Togo was one of the writers, though it came in the form of a press release. It would be interesting to know who actually wrote that press release and also whether Dr Tinah was paid in some way.
I'm still trying to figure out who the firm payed to write letters to EPA officials. I would also like to know which administrators at the EPA were targeted.
Although not mentioned in the strategy document, Spartan Mosquito and one of its founders gave approximately $10,000 to the Cindy Hyde-Smith, the senator who chairs the committee with EPA oversight. I don't think they donated to any other senator. It would be interesting to know whether Senator Hyde-Smith was one of the persons who called EPA officials about the Pro Tech.
I'm not sure how it fits into categories listed above, but it's possible that two companies (see below) were created for the sole purpose of influencing the Pro Tech's registration. Both companies claimed to be non-profits that highlighted their goal of helping people in dire need. But they were both singularly interested in promoting Spartan Mosquito. So my guess is they were involved somehow.
Innovative Mosquito Control, Inc
Innovative Mosquito Control (INMOCO) purports to be a public benefit corporation devoted to fighting malaria in Africa. As part of this effort it claims to have partnered with Spartan Mosquito to promote/supply the company's tubes to the region. Its CEO and President is Omar Arouna (2nd from left in photograph below), a lobbyist based in D.C. who typically charges $1,500/hr for consulting and social media campaigns. There's no further information on who works at the company or whether it even has employees. Contributing to the lack of information is that fact that the business was set up in Delaware, a state popular among companies that want to keep the true owner secret. And the company's website was housed on a server in the U.S. Virgin Islands, also famous for companies that want to obscure their operations. It all seems needlessly secretive for a company that is ostensibly fighting malaria. But here's the interesting part: Mr Arouna has worked with Gunster Strategies on several occasions. And as a minor fact, both INMOCO and Gunster Strategies use Wix for websites. It seems likely that they collaborated on this scheme.
What's also fishy is that soon after the Pro Tech got its registration from the EPA, INMOCO's website was taken down and its Facebook page (which has zero followers) has had no further posts. And Mr Arouna's LinkedIn profile is devoid of any mention of the company he heads. It's as if the whole operation was created just to give the illusion that Spartan Mosquito was going to rid the world of malaria, which in turn could be used to manipulate somebody at the EPA.
West Nile Education, Eradication & Prevention
WEEP & Recover, a Mississippi non-profit, was also set up in the months before the EPA's consideration of the Pro Tech. It's run by James Hendry, probably most famous for his other non-profit, Mississippi for Family Values (which got him onto Oprah, I gather). The WEEP & Recover website and Facebook page are full of slick graphics and videos, most of which feature Spartan Mosquito and, notably, include no other mosquito-control company or strategy.
Functionally, WEEP & Recover is an advertising arm of Spartan Mosquito. The videos, graphics, and website design are all provided by the branding firm, Unify by Bread. Unify by Bread also produced a heartwarming video about hardware store staff that used Spartan Mosquito products as backdrops. It would be interesting to know who is funding WEEP & Recover and Unify by Bread. The bills are likely in the hundreds of thousands of dollars.
Another huge reason to suspect WEEP & Recover is a sham non-profit is that Mississippi already had a well-established, respected non-profit devoted to West Nile education and prevention: Mosquito Illness Alliance. The Mosquito Illness Alliance, however, has long viewed Spartan Mosquito's devices as ineffective, and it was not shy about telling the public about that fact.
By the way, James Hendry and Spartan Mosquito also worked together to make April 13-19 "Mississippi Mosquito & West Nile Virus Awareness Week", an effort that apparently has died in committee (FYI, bill was also plagiarized). But proposing it was a PR coup and photo op for Spartan Mosquito because it all went down in the months before the EPA considered the Pro Tech. I wonder whether it was suggested by Gunster Strategies. Here's the staged photograph, linked to the post on Spartan Mosquito's Facebook page (a post the company has decided to hide).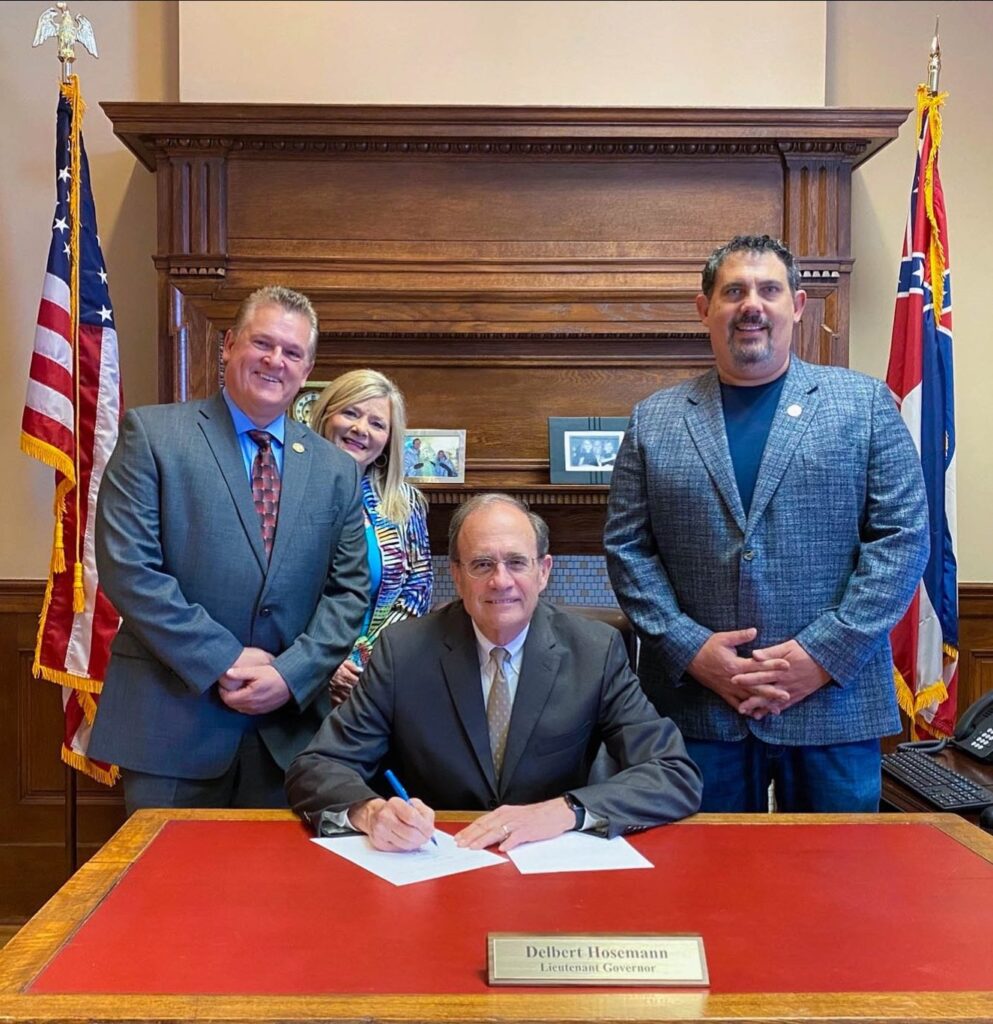 ---
I suspect there's more to be discovered about how the Spartan Mosquito Pro Tech got its EPA registration. If anyone has further information, please contact me.