Here's a table comparing the two attractive toxic sugar baits (ATSBs) sold by Spartan Mosquito. Please feel free to share on Facebook, Nextdoor, and Pinterest.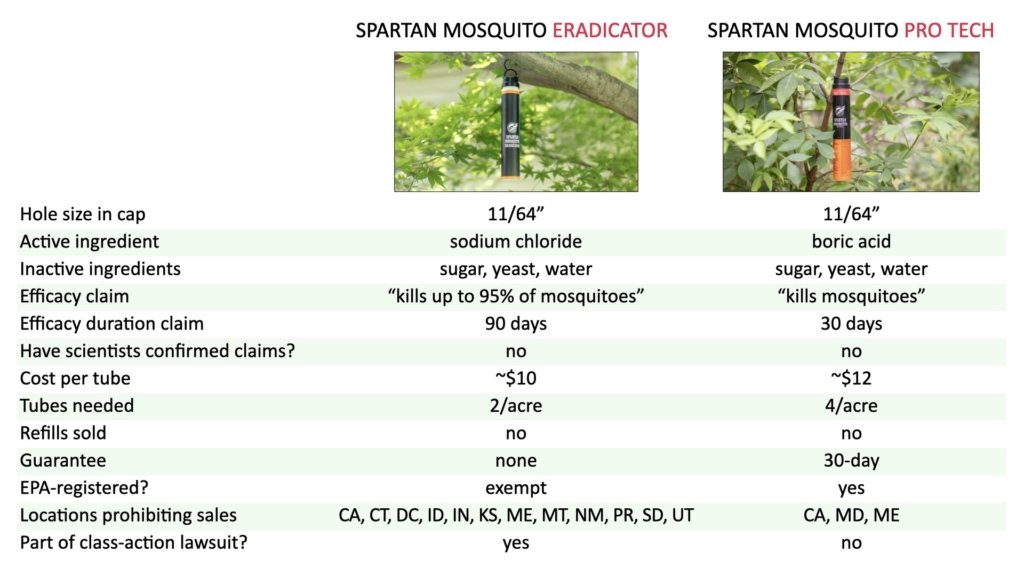 If you see anything that needs updating, please let me know.
Notes
Spartan Mosquito no longer makes the Eradicator but it is still available at some retailers. The company likely has focused production on the Pro Tech because it gives a higher profit margin — homeowners need more tubes per acre, more frequently, and at a higher price.
The company has said it is working on selling refills for three years. I don't think it will ever happen because there's not enough profit in selling refills (ingredients cost pennies).
Per the fine print, the 30-day guarantee clock for the Pro Tech starts the day you purchased the device (or the day it was delivered). I think you have to initiate the return before the 30 days expires. So set it up immediately and never buy in bulk for future use.
Scientists have evaluated the Spartan Mosquito Eradicator and found no evidence it controls mosquitoes, and have separately determined that salt doesn't kill adult mosquitoes.
Here is my review of the Spartan Mosquito Eradicator. I'm not aware of any other unbiased review. I.e., other reviews tend to profit via affiliate links and therefore cannot really be trusted.
The Spartan Mosquito Eradicator is the focus of a $5 million class-action lawsuit. That could mean full refunds for everyone who ever purchased the device.
Scientists haven't published findings on whether the Spartan Mosquito Pro Tech is able to kill mosquitoes. When I used a camera to spy on one in my yard, no mosquitoes arrived.
Here is my review of the Spartan Mosquito Pro Tech when it first came out.
Retailers tend to tell customers that both devices work. However, it's probably important to note that retailers make approximately $10 on every box they can sell. They might be great people, but they have an interest in making customers believe the devices work. Few other items offer the profit margin that Spartan Mosquito tubes do.
Neither device has been recommended by the American Mosquito Control Association (AMCA) or the CDC as effective at controlling mosquitoes. The AMCA has apparently banned Spartan Mosquito from exhibiting at annual meetings. It has also prepared a report on the devices but hasn't made it public.
Here are the approximate ingredient amounts for the Eradicator in case you'd like to make your own refills:  2 1/2 tbsp sucrose, 1 tsp salt, 1/16 tsp yeast. Then add warm water to fill line. Here's the recipe for 40 refills (feel free to share on Facebook). Refill ingredients cost less than a nickel per tube. To refill a Pro Tech: 0.48 tbsp boric acid, 0.48 cups sucrose, 1/16 tsp brewer's yeast.