Spartan Mosquito is facing a $5 million class-action lawsuit for falsely advertising that Spartan Mosquito Eradicators kill mosquitoes.
The device is a plastic tube filled with water, sugar, yeast, and salt. The company advertises that mosquitoes are drawn inside the device, drink the fluid, exit, then die. The claim is that up to 95% of mosquitoes in a yard are killed for up to 90 days. I reviewed the device in 2019.
Below is a photograph of the founders, Chris Bonner (orange shirt) and Jeremy Hirsch (blue shirt), demonstrating the Eradicator.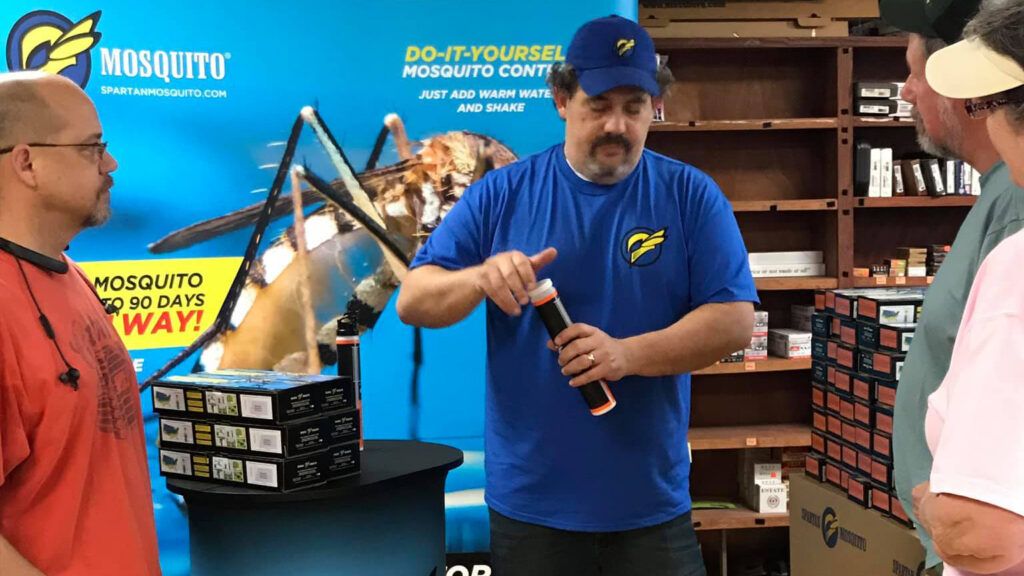 Here's a PDF of the complaint. Some additional files are available at Court Listener. I have all the files if you are interested.
Select quotations from the complaint
"… the Spartan Mosquito Eradicator is a complete scam."
"Product is ineffective for mosquito control because it does not kill mosquitoes …"
"Defendants are well-aware that the Product is ineffective yet sell it anyway in pursuit of profit and in clear disregard for public health and safety."
"If Defendants' claim of having solved one of mankind's most vexing problems and greatest health challenges using just sugar, salt, and yeast sounds too good be true, that is because it is."
"Defendants already know that the Product does not work. They have repeatedly commissioned efficacy tests which found that Defendants' marketing claims were unsupported and that the Product did not work as advertised. However, they have suppressed publication of these findings using nondisclosure agreements and threats."
"Spartan's founder and spokesperson, Jeremy Hirsch, has made personal threats to at least one scientist involved in this research in order to intimidate him out of publicizing the results of his research."
Trial
One reason why Spartan Mosquito seems likely to lose is that scientists have confirmed that salt (the "active" ingredient) doesn't kill mosquitoes. And another team of scientists has confirmed that Spartan Mosquito Eradicators do not control mosquitoes. So there's rather good evidence the tubes don't work. It's likely the scientists who conducted the studies will be called to testify.
The attorney who filed the class-action, Yitzchak Kopel, seems to specialize on companies that make false mosquito-control claims.
I plan on attending the trial.
Spartan Mosquito's other legal issues
There may be other lawsuits that I don't know about. For example, the company posted on its Facebook page that a group of scientists at Purdue University is suing Spartan Mosquito, perhaps over the $500,000 prize for a contest announced on Facebook (I'm guessing Spartan Mosquito doesn't want to pay up). I've also been informed that the Environmental Protection Agency is investigating Spartan Mosquito, so perhaps Federal charges will materialize at some point. But the latter might relate to the company's other device, the Spartan Mosquito Pro Tech.
I'll update this page as cases work their way through court system. If you have information on any of the above, please contact me.