Evolution has an image problem.  It's fundamental to all biology, totally true, and immensely interesting … yet many people still don't feel comfortable talking about it at parties or at work, and it's effectively banned during the early years of public education, when kids are actually interested in where things come from.  One possible way to chip away at this fear is to inject into the internet fun, clickable images of evolution fans displaying their acceptance. On Facebook.  On Instagram. Etc. These images, if high quality, would eventually come up high in search results for "evolution" and "darwin" and thus would convey to young, impressionable searchers that evolution is not just something that old people with questionable grooming habits drone on about.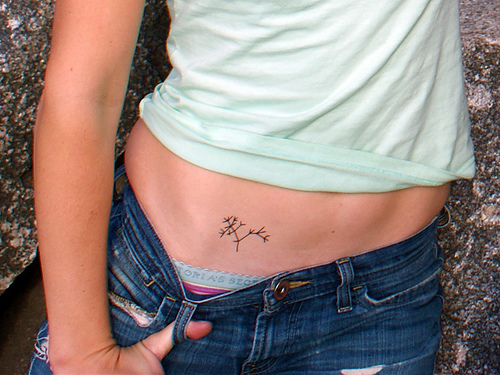 So I've been trying to generate such images by sending evolution tattoos to photogenic volunteers.
I have a few Darwin sunbursts (above), and quite a few "tree of life" tattoos (at right).
If you are a photographer and have science loving models or friends, contact me.
ⓒ Colin Purrington 2004-2013