Evolution has an image problem.  It's fundamental to all biology, totally true, and immensely interesting…yet many people still don't feel comfortable talking about it at parties or at work, and it's effectively banned during early years of public education.  One possible way to chip away at this fear is to inject into the internet fun, clickable images of evolution fans displaying their acceptance. These images, if high quality, would eventually come up high in search results for "evolution" and "darwin" and thus would convey to young, impressionable searchers that evolution is not just something that old people with questionable grooming habits drone on about.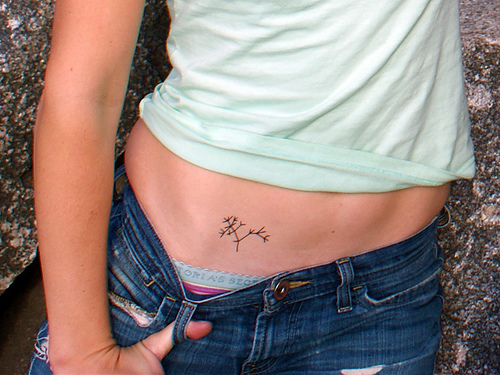 The images won't just appear by magic, so I've been promoting the use of evolution tattoos on photogenic volunteers (see photographs on this page).  If you are photogenic or have a friend who is, I can send you one.  And if volunteer has a BMI between 18.5 and 20.5 and can somehow involve mini-skirt, bikini, bike shorts, or similar garb, I'll send you two (it's shameless advertizing, after all).
Once your photograph is online, please come back to this page and leave the URL in the Comments, or send the file to me as an attachment if you'd like it featured on this page. I'm happy to omit your name underneath photo if you're in witness protection or have family member that would have conniption about tattoos or evolution. Remember: it's temporary, it's for a good cause, and it will amuse your friends and family. And "evolution tattoo model" will look great on your resume.