Below are several templates (3 landscape, 2 portrait) that can be used to make a meeting poster. Just download, adjust the dimensions (if you need to), and start typing. You can, of course, also change background color, text box color, font, etc. The templates are just starting points that can save you a few hours of fussing over the basics like column widths.
Horizontal template with results arena
This layout  that gives a lot of central, visible space to the results and demotes unimportant sections (Literature cited, Acknowledgements, Further information) to the bottom portion of the poster that is harder to read. If you'd like to see an example of this layout, please look here. Download: Powerpoint, OpenOffice.

Horizontal template with big central column
If you prefer a more traditional layout (just columns) but still like the big central area for results, use this (Powerpoint). Note that any content near the bottom part of the Materials and methods and Results sections will be harder for tall people to read (because they'll need to bend their necks).  If you don't like tall people, choose this template.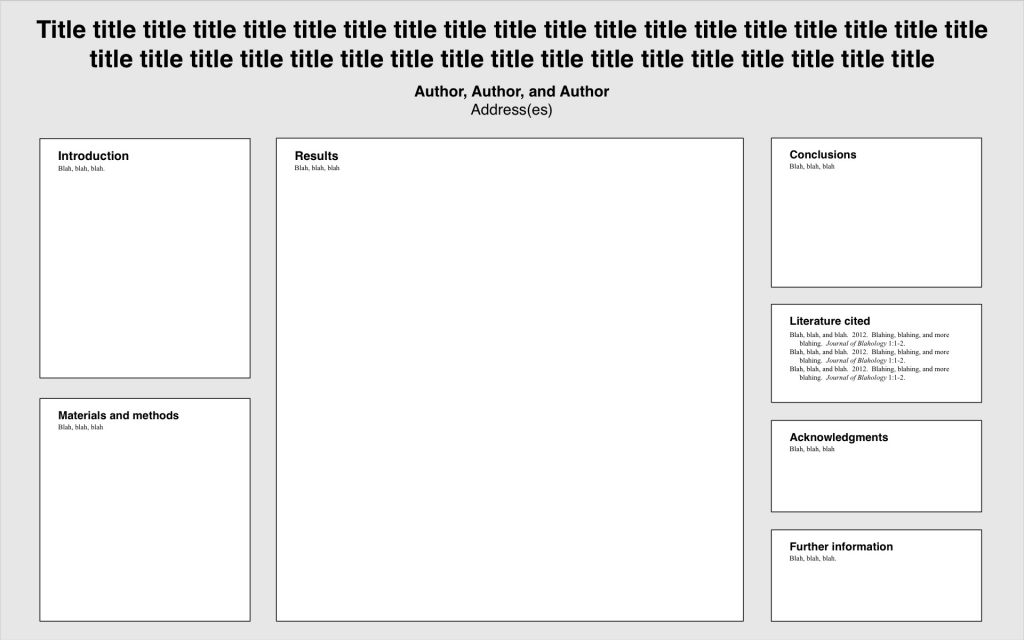 Horizontal template with four columns
The third option is the four-column approach (the most traditional). Here's the file to download: poster-template-horizontal-3-purrington.ppt.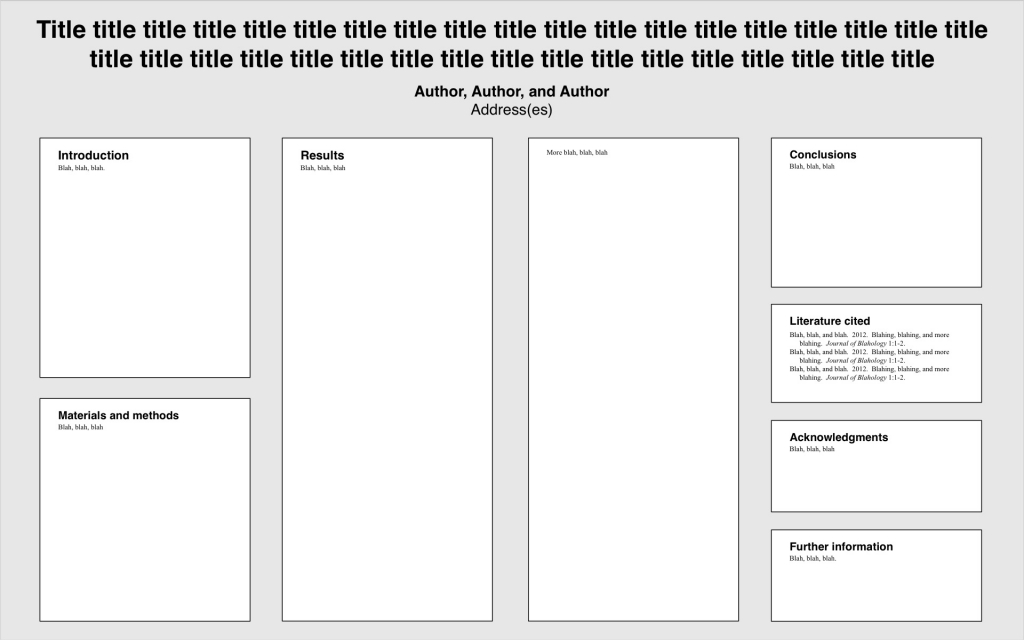 Portrait template with demoted sections
If you need a portrait-style poster template, you can give this a try. Template has little dots near the bottom to indicate that Literature cited and Acknowledgements should be read last. You can delete those dots if they offend your sensibilities. I've also indicated with the "logos" graphic that logos can/should go at the bottom. Here's the file to download: poster-template-vertical-1-purrington.ppt (Powerpoint), poster-template-vertical-2-purrington.odg (OpenOffice Draw).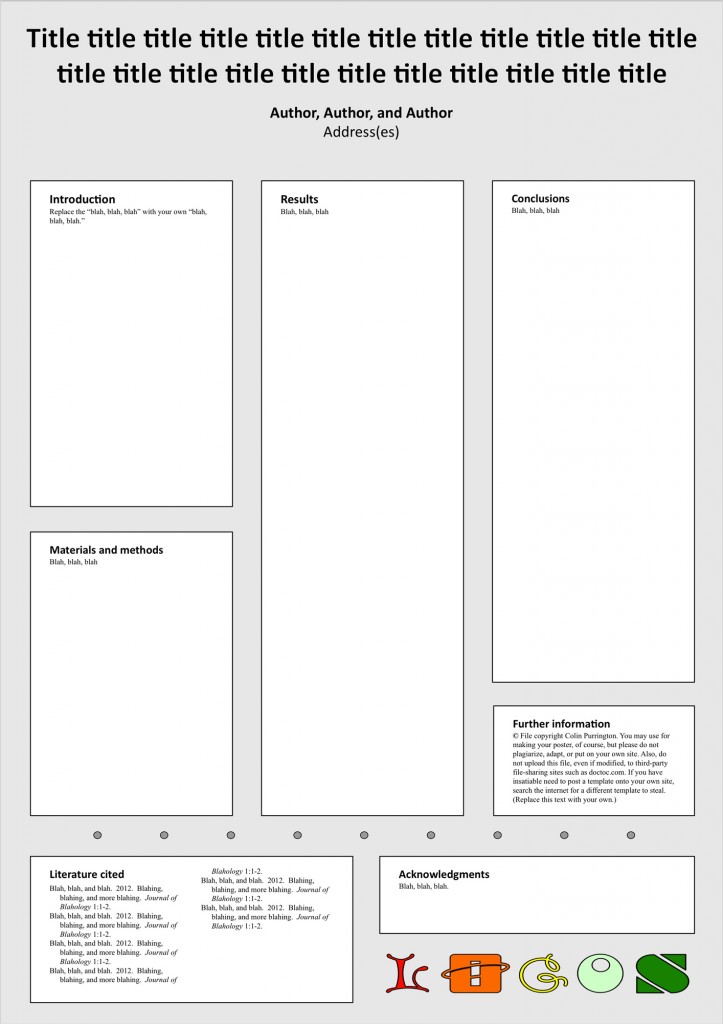 Portrait template with results arena
If you prefer a portrait-style template with a big results area, use this (Powerpoint) template. As with other templates, put the logos at the bottom of the poster. Or don't include them at all.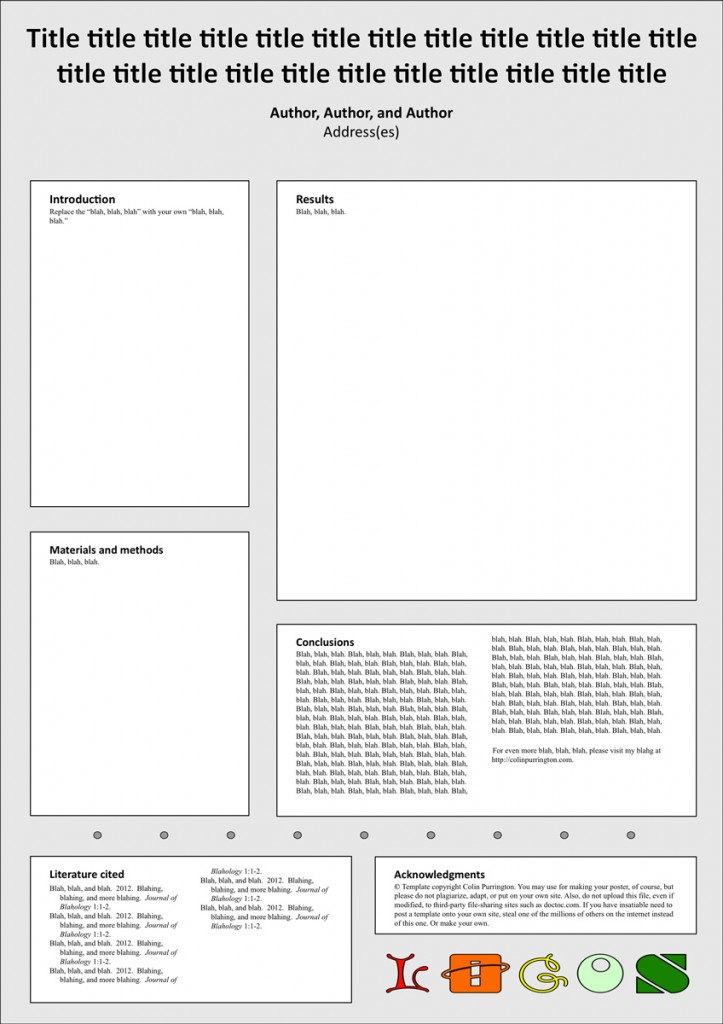 Note: I tend to dislike portrait posters because a big chunk of the poster real estate is below a viewer's field of vision so you'd need to stoop to fully read. If you are in charge of a poster session, please read my plea about this problem.
Your poster doesn't need to look like any of the templates above. Unlike a manuscript, a poster can adopt a variety of layouts depending on the form of charts and photographs. Indeed, you probably don't want your poster to look like every other poster in the room (that would be boring).There are also thousands of other templates on the internet, but I dislike most of them because they are too busy and don't have white space. The University at Buffalo's templates are exceptions. But don't be constrained by templates. As long as you maintain sufficient white space and provide clear cues to your readers about how they should travel through your poster elements, you can and should get creative. Here are some I like: example 1, example 2, example 3.
Software recommendations
Although the vast majority conference posters on the planet are produced with Microsoft Powerpoint, you'll end up with a better-looking poster if you use a page-layout application such as QuarkXPress, InDesign (great poster instructions), LaTeX (templates; instructions; example), or Scribus (instructions). These programs allow control of text wrapping around images, automatic text flow among associated text blocks, and much more. You can also make posters with graphics software such as Illustrator, CorelDRAW, Freehand, Omnigraffle, and Inkscape. There's also PosterGenius for those who need a program that will make a lot of the design decisions for you.
If you're crafty, a handmade poster is far superior to anything that you could make with a poster printer. Plus you'd be the highlight of a meeting. E.g., Jason McDermott's poster.
Embrace the rough draft process
The most important part of producing a great poster is to embrace the rough draft process. You'll want to get honest feedback from people in your laboratory and from smart strangers who might not really care about your topic. Perhaps the easiest way to get feedback is to print a miniature version of your poster on 8 1/2 x 11″ paper. If people can't read the text (especially on the figures), that's a sign that your font size is too small. Another way to get feedback is to use a projector to display your poster on a large screen or monitor, then ask people to verbally critique. You want an audience that can walk up to the screen like it's a poster at a meeting.
Ideally, print a draft poster at least a month before the meeting and get people to critique your poster when you are not present. I.e., hang it in a hallway with a huge sign that pleads and begs for honest feedback about layout, word count, spelling, font, color, content, etc. Tell them to leave comments on Post-It notes (so provide these in container, with pens). And, again, don't be present for this. If you are lurking like a proud parent, people will say, "Looks beautiful!" out of politeness and a desire to get away fast. If your hallway is populated with slackers, motivate them by providing food rewards in a box attached near poster. Attach sign to box: "Please tell me how to make my poster better. Mini candy bars are my pathetic thanks."
MORE POSTER TIPS
Poster design overview • Section contents • DOs and DON'Ts • Bad example
Templates • Printing • Poster additions • Presenting • Resources
COPYRIGHT 2018 COLIN PURRINGTON