This page contains a downloadable PDF so you can make you own Charles Darwin stickers at home.  Why would you want to do that? It's a visual way to show your love of science without using the mean-spirited "evolve fish."  If enough people display their acceptance of evolution and other reality-based concepts, the anti-reality fervor might cease to be the dominant flavor in towns.  Students in public schools are especially encouraged to use them on their lockers and book covers.
I set up a facebook group, if you're into that.
How to print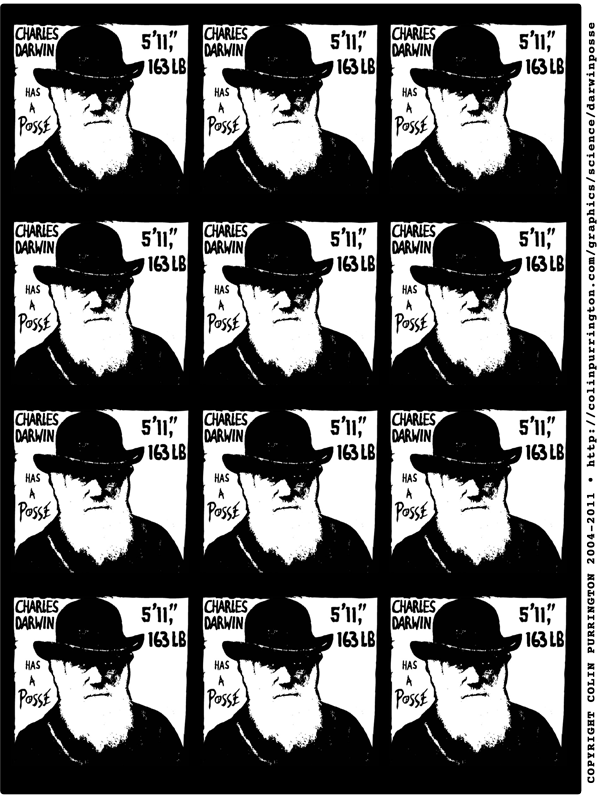 Print the "3×4 darwin file (pdf)" (image shown at right) onto "full sheet" label pages (e.g., Avery 5265). Then cut out individual images.  Peeling the sticker backing off the resulting squares is indescribably annoying, but at least we have opposable thumbs, for reasons we don't have to go into. You can also print the image onto magnetic inkjet paper, and then "sticker" ferrous objects without damaging the surfaces.  I've successfully slapped magnetodarwins onto slow-moving taxis in New York City, for the record.  I've also attached the magnetodarwins to the tip of my umbrella, and then used the extended reach to affix them onto steel girders that are normally too high for traditional stickering.
If you're too busy to make your own, head over to my Cafepress site (established 2004), where you can order stickers, mouse pads, and many other things you probably don't need.  I use the small profit to buy Darwin gifts for my dorky friends.  So it's for a sort of good cause.
About the source image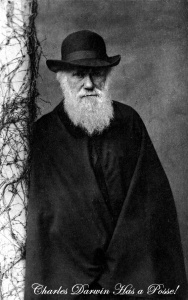 The portrait of Darwin is from an 1881 photograph taken around the time he published his blockbuster, "The Formation of Vegetable Mould, through the Action of Worms." I didn't take the photograph, but I thought the image had good potential to be virally attractive. He seemed to have a, "Make my day" look on his face.  It seems to be adopted by others more and more.  Did Darwin really weigh 163 pounds? Well, he was 10.5 stone after The Beagle adventure, and "overweight" in his later years, and 163 lbs is my best guess at his fighting weight. Regardless, at one point in his life (if even for only a day) he did weigh 163 pounds. He was actually 5′ 11 1/2″, by the way.
My design is obviously based on Shepard Fairy's "Andre The Giant Has A Posse" project that popped up around Providence in late 1980s.  I lived there when Shepard Fairy was a student at Rhode Island School of Design, and loved the stickers around campus. (I checked with him about emulating his sticker, and he's fine with it).
Here are some of my favorite sightings:
Text and images copyright Colin Purrington (me) unless otherwise noted. That means I'd prefer that you not take the image or text and set up a Zazzle or Cafepress store.  And means I'd prefer that you not recreate/emulate my image and set up a Zazzle or Cafepress store.