This page contains a downloadable PDF so you can make you own Charles Darwin stickers at home.
Why would you want to do that? If enough people displayed their acceptance of evolution and other reality-based concepts, the pro-supernatural fervor in the world might simmer down a tad.  Currently, the anti-science folks seem to dictate a lot of the policy on this planet, and I'm not sure that's really working out so well.
I designed this sticker with the "evolve fish" car decal in mind.  Although that's funny to some, the "evolve fish" is funny mainly because it makes fun of people who believe that a guy came back from the dead, etc.).  I thought we needed something pro-science rather than anti-religion.  But that's just me.
How to print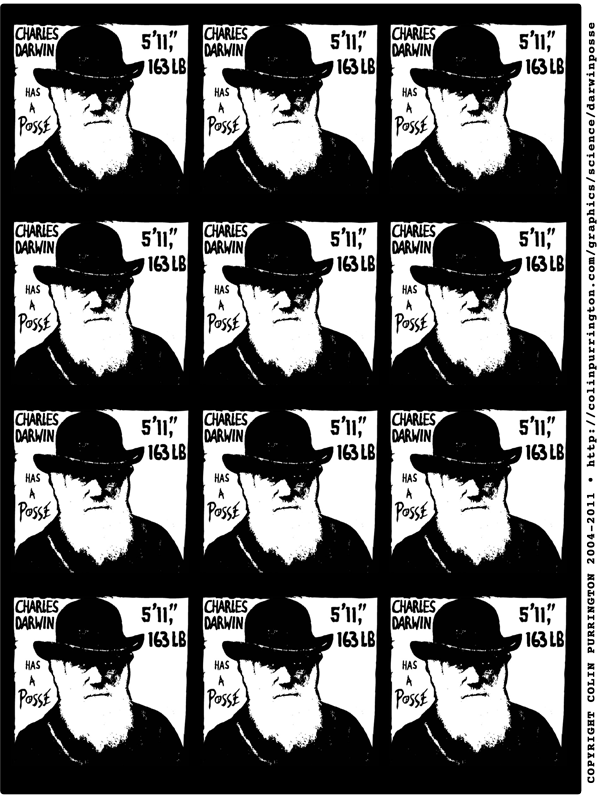 Print the "3×4 darwin file (pdf)" (image shown at right) onto "full sheet" label pages (e.g., Avery 5265). Then cut out individual images.  Peeling the sticker backing off the resulting squares is indescribably annoying, but at least we have opposable thumbs, for reasons we don't have to go into. You can also print the image onto magnetic inkjet paper, and then "sticker" ferrous objects without damaging the surfaces.  I've successfully slapped magnetodarwins onto slow-moving taxis in New York City, for the record.  I've also attached the magnetodarwins to the tip of my umbrella, and then used the extended reach to affix them onto steel girders that are normally too high for traditional stickering.
Students in public schools are especially encouraged to use them on their lockers and book covers. Parents, if you're on board with this whole reality-based view of life, print some up for your kids.  It's not a crime to like Darwin…it's probably even part of the state science standards (if it's not, move).
If you're too busy to make your own stickers, head over to my Cafepress site. I get about 1 sale per year.  I spend the profit on stamps so I can send free stickers to deserving geeks.
About the source image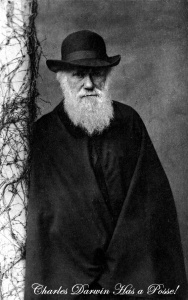 The portrait of Darwin is from an 1881 photograph taken around the time he published his blockbuster, "The Formation of Vegetable Mould, through the Action of Worms." I thought the image had a good "Make my day" look. My design is obviously based on Shepard Fairy's "Andre The Giant Has A Posse" project that popped up around Providence in late 1980s while I was a graduate student at Brown University. I checked with him about emulating his sticker, and he was fine with it.
Please help me spread the word about this site by sharing on Facebook and Twitter (buttons below). And if you have a sighting of a sticker, I always love receiving emails.
ⓒ Colin Purrington 2004-2013