Before you print a poster, print to a PDF first and confirm — at 100% magnification — that colors, fonts, and images look perfect. If you've never printed to a PDF before, it's easy: on Windows machines, select, "Save As", and on Macs, "Print To." If the PDF looks awful, go back and fix your source file. One trick is to upload the PDF to http://pdf-analyser.edpsciences.org/, which will give you a listing of the resolutions of all images contained, plus will flag any fonts you've used but weren't embedded in the PDF. If you own Adobe Acrobat Pro, you can get the same information by running a preflight diagnostic.
Once you have a PDF that you're pleased with, send it to your campus poster printer, a local media business (Office Max, Staples, Kinko's, etc.), or to a poster printing service that prints academic posters. If you opt for an online service, they'll mail it to you (in a tube), even to your meeting location if you so desire. I've use PhD Posters in the past because their locations are run by people with PhDs (really) who value good design and know about academic conferences … plus they haven't plagiarized my site like certain other popular companies. In many cases, conference organizers have arrangements with online poster printers that offer a discount, so check with the people in charge. Ideally, do all the above in time that you can re-print if you discover a problem only on the printed version. You might have made a $200 mistake, but if you're trying to impress people, and you probably are, it might be worth the do-over.
These days, there are lots of options on paper thickness and gloss, plus even the option to print on various types of fabric that can be folded. One huge advantage of fabric posters is that you can store the poster in your briefcase/backpack, and thus minimize the chance you'll inadvertently leave the poster behind at the airport (when your poster is in tube, this happens). Astrobetter has a nice review by Emily Rice. Another huge advantage of cloth posters is that when you are done presenting you can make geeky clothes.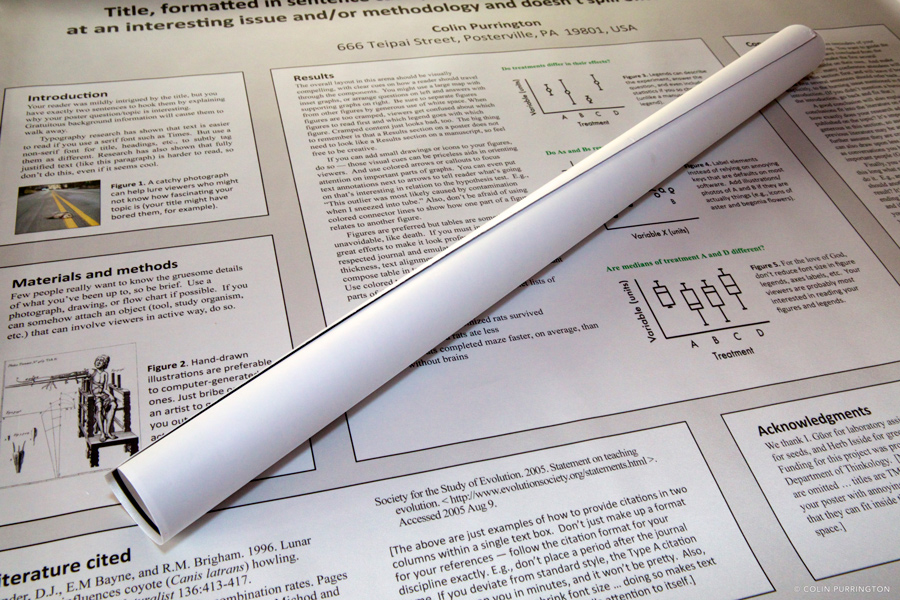 Of course, many conferences these days feature posters on monitors. But you should also print your poster so that you have something to hang in your hallway when you return.
Note that if you receive your poster and the images look pixelated or the colors displease you, just print out high-resolution replacements and attach them with tape to cover the bad versions.
MORE POSTER TIPS
Poster design overview • Section contents • DOs and DON'Ts • Bad example
Templates • Printing • Poster additions • Presenting • Resources
COPYRIGHT 2018 COLIN PURRINGTON