Here's a made-up example of a bad conference poster that I crafted for the journal, Nature (see article). I could easily have used a bad poster on the internet (there are tens of thousands), but I worried the author might notice, find out where I live, and shoot me. Below the image is a list of reasons why the poster is bad.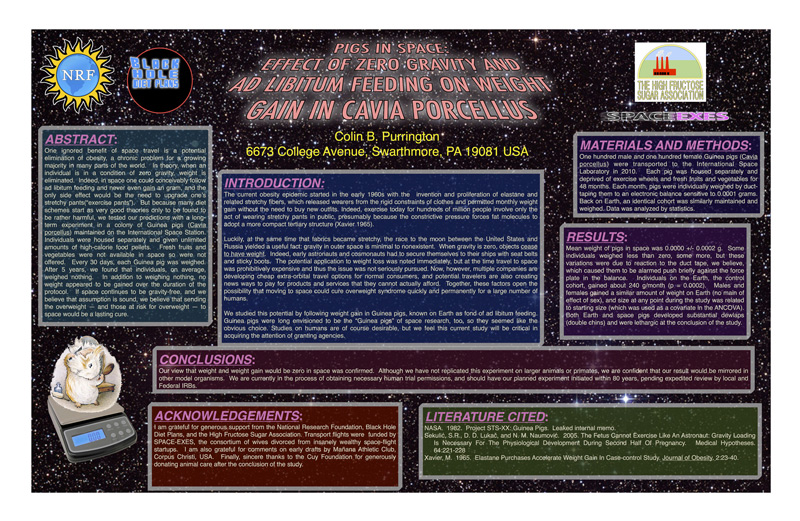 Problems
Far too much text. You should shoot for 800-1000 words. Most posters seem to be have ~3000 words, which is the main reason why they look so bad and why so many viewers avoid poster sessions.
Background image is distracting (i.e., it distracts from text and illustrations).
Text box backgrounds are dark, which makes text really hard to read.
Text box backgrounds are all different colors, for no reason (distracting).
Text boxes are different widths (distracting, hard to follow flow of poster).
Some text boxes too wide (aim for 45-65 characters per line).
Text boxes not separated from each other by pleasing "white" space.
Text box edges not aligned (distracting).
Text justified, which causes bad inter-word spacing. Also makes reading harder (brain uses jaggedness of left-justified text).
Logos are distracting, useless, crowd title.
Title word art distracting, hard to read, juvenile.
Title is in all caps, which is harder to read and obscures Latin name.
Title is italicized, which also obscures Latin name style conventions.
Author font and color is annoying (comic sans should be reserved for comic books, internet memes).
Author font color is too loud relative to other text.
Results are presented in sentences instead of visually with charts.
Section headers have too much formatting (big font, bolded, italicized, underlined, and colored — ack!).  Choose one. [Note: I forgot to number the sections…that would have been even worse.]
Terrible graphic of Guinea pig on scale. Need one of the actual set up (pigs eating while weightless, for example).
Inclusion of an Abstract consumes space needlessly. Abstract section should be banned from posters. Posters ARE an abstract.
Plus the science is terrible! (Bad science is correlated with bad graphic design, by the way.)
I encourage teachers to print the poster and hang in a hallway a month prior to when students' posters are due. Here's the PDF if you want to do that.
MORE POSTER TIPS
Poster design overview • Section contents • DOs and DON'Ts • Bad example
Templates • Printing • Poster additions • Presenting • Resources
COPYRIGHT 2018 COLIN PURRINGTON