"It is not the strongest of the species that survives, nor the most intelligent, but the one most adaptable to change."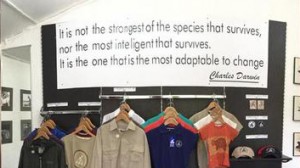 This quote (and hundreds of mutant kin) is often attributed to the naturalist Charles Darwin, but he said no such thing (see a recent post on the true source). The mistake is everywhere: in coffee table books, in natural history museums, and even in the gift shop of the Charles Darwin Foundation (photo shown here is from their Twitter feed — click to enlarge).

This misattribution is, of course, annoying to people who admire Charles Darwin and his actual writing (he wrote ~25 books, and thousands of letters). So to fight this, I thought I'd make a few slides that might eventually get included in Google search results, and thus available to people who want to use the quote in their business management slide decks. I made three versions. Please use these slides if you are able. Share them on Twitter. Etc. Every bit helps.
The first version features a marine iguana with its mouth open, as if it was saying something. Darwin and others described these beasts as stupid looking, but the species are adapted to the islands in a rather spectacular way  — individuals evolved to swim underwater and eat algae — so it's a rather good image to use for the quote. The second is a photograph of Charles Darwin, perfect for people who like the quote but really need a photograph of the chap who clearly inspired Megginson. The third slide is a photograph of Leon C. Megginson himself. He was a professor of business management in Louisiana. Download any of the slides by clicking on the thumbnails, then save.
As proof of why we need to get the word out, please see Twitter feed below, updated to show recent Tweets that contain the quote. The phrase is especially adored by nutritionist bloggers, consultants, and business folks who spew inspirational quotes. It would be great if those quotes credited Dr Megginson.
Tweets about it is not the strongest of the species