I made this page because, if you're a typical scientist, you don't think crediting photographers is necessary, just like teenagers don't worry about sharing music and movie files with each other ("everyone's doing it so it's, you know, like, OK, LOL").
It's really not that hard to do. Here's one way: add a black box with grey text at the bottom of your image.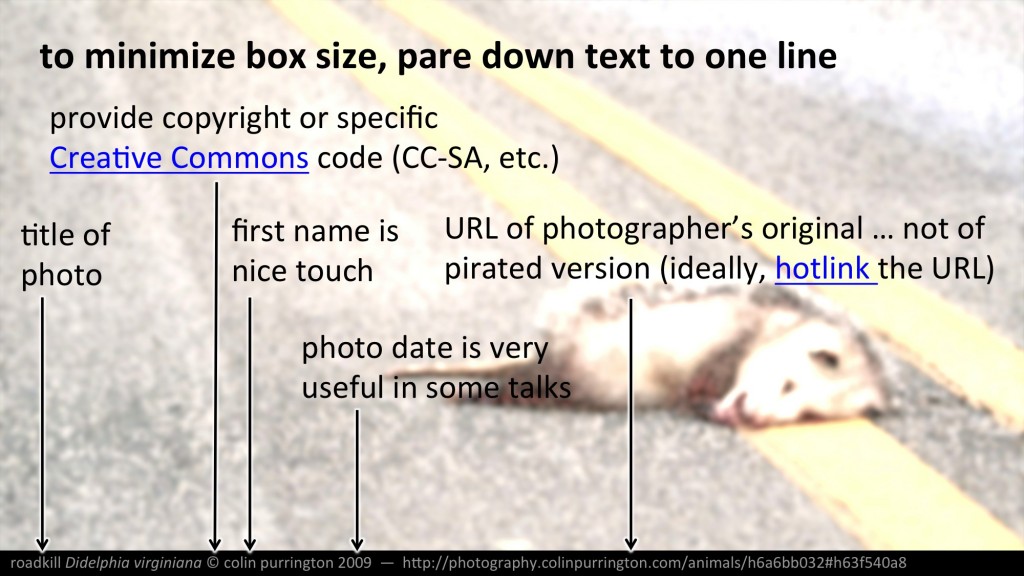 The above detail might be overkill, of course, but all that information is potentially useful to an audience member who is actually interested in the photograph. At the very least put the photographer's full name. And, sure, the grey text is a tad hard to read, but that's sort of the point: audience is supposed to be paying attention to you, not reading all the photo creds.
And don't be lazy about tracking down the photographer information when you find an image that's perfect for making your talk interesting. Use Jeffrey's Exif viewer, Tineye Reverse Image Search, and Google Inside Search to track down the source of images you might stumble upon. Note that just because somebody else use the image without credit doesn't mean you should do the same. If all fails, provide the URL where you found the image … though providing that won't protect you from being sued if the photographer finds you've published your slide deck somewhere.
You can also tweak box color,
and orientation:
The problem with vertical text, of course, is that it's annoying to edit. But it's perfect if you have images with 4 x 3 aspect ratio.
Finally, a plea regarding the "end of talk" image credit list: don't do that. The moment the audience might be interested in the source is when the audience is looking at the image. And to be honest, you probably won't even show it. Furthermore, if you send your slides to somebody else or post them on the internet (ack … don't do that!), other people are going to extract the slides they want without copying the credit information from some distant slide they might not even see.
If you have a room full of impressionable students, please pause once during your lecture (or semester) to comment about your image credits. Students might have noticed, but it doesn't hurt to be clear. Tell them you work hard to find this information because, like quotations and charts from others, it's important to be honest and humble about sources. They will absorb what you did and model that behavior when they give their own talks. Teachers need to teach moral behavior in this regard, to clarify that image attribution is part of the academic code.
Finally … is it OK to share slides online? The answer is almost always, "no". Even if you had permission from a photographer to use an image in a lecture, he/she doesn't might not want that image being shared with the world for free, for the rest of time. Sharing the slides on Blackboard or Moodle is also problematic … students will download those slides and then might re-use them in the future when they might need images for their own talks. Students also have a nasty habit of uploading course slides to Slideshare. And kids these days don't care at all about copyright law, of course.
Useful reads:
UPDATE 02/22/2016: please also see "Image attributions in presentations", by Catherine Scott at the Small Pond Science blog.